Are you looking for efficient ways of generating leads via Facebook?
Do you know that Facebook introduced three new features to help online marketers get more out of Facebook lead ads? These new features comprise of some old lead generation procedures and a few integrated items that will improve the overall user experience in the Facebook social media platform.
Here is a comprehensive review of the three new features and how to utilize them effectively for more lead generation.
Carousel Lead Ads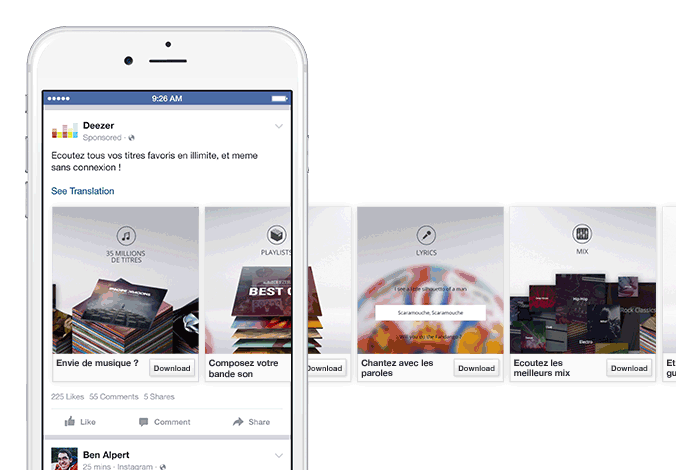 Although carousel ads are not new features for Facebook marketers, the recent integration of Call-to-action (CTA) buttons on carousel ads is considered as a big step towards maximizing lead generation for marketers. With a carousel lead ad format, internet advertisers can display up to five images and headlines in a single ad that is merged with a Sign Up, Download Now, Subscribe, Learn More or Get a Quote CTA button. This feature is very beneficial for companies selling multiple products or that require multiple images to be displayed before the lead is convinced to take action.
Carousel Facebook lead ads can be created via either Power Editor or through a Facebook Marketing Partner. The latter is the most common way of creating Facebook lead generation ads via carousel, although there are growing numbers of users preferring the more technical Power Editor platform. With the improved carousel ads that are merged with CTA buttons, you will not need to send the user to your website to collect a lead.
They can sign up, download information, get a quote or even subscribe to your newsletters through a simple click on the mouse button without visiting your web pages. The lead ads will either pop up or appear permanently on the images depending on your lead generation settings. If you are finding difficulties using Power Editor Format, then you can always opt to hire a reliable Facebook Marketing Partner to help you with lead generation using carousel ads. There are also reliable step-by-step guides on how to use Power Editor to set up carousel Facebook lead generation that you can access online and try doing yourself.
Again, if there are any challenges noted while doing this, then consulting a Facebook marketing firm can really help you out.
Context Cards
Context cards for Facebook marketing is a new feature that provides a useful platform where advertisers can add an additional page to describe more about their goods or services in order to convince potential customers into taking an action. In most cases, the Facebook Context cards contain a review, press release or a newsletter which prospective leads can read before deciding to sign up, download or subscribe to the advertiser's services.
The use of Context Cards has been hailed worldly by leading internet marketers because of the simple steps involved in creating a successful lead. Users who sign up from Context Cards are presumed to have read the service descriptions and made the decision to join since the services suit them. It is therefore one of the perfect ways of generating high quality leads that can easily be converted into successful sales.
The realization that direct links to websites, which were once popular in lead generation, often made users land into web pages that they were not intending to visit has made Facebook marketing experts come up with the Context Cards that give you information about the advertisers before you hit the Subscribe- Sign Up button.
In other words, only people interested in the provided services will subscribe to the services after hitting the CTA buttons on the Context Cards, which is a big plus for advertising companies that had problems of persons of no interest invading their lead generation links and end up not making buying the services.
For your Context Cards to highly effective in lead generation, ensure that the content used in describing your services is of high quality and engaging to potential customers.
Desktop Delivery
Facebook's new feature that allows advertising on desktop devices in addition to mobile feeds is a big plus for marketers. Allowing lead generators to showcase their advertisements and CTA buttons on desktops has helped them reach out to a big audience that prefers accessing Facebook via desktops than through mobile devices. The new ads work almost similar to how mobile device marketing ads work, the only difference is that a bigger platform for putting large adverts with clear images is made available on desktop delivery.
Although the launch of desktop delivery for Facebook marketers was long overdue, the positive impact that this new method has delivered in the few months that it has been in effect is tremendously outstanding for lead advertisers. There are over 800 million people on Facebook, with a big percentage of this number using desktops only to gain access to their profiles.
With social media platforms the leading channels for lead generation, the use of Facebook lead ads on desktop devices cannot be ignored by any company. In fact, a big number of companies using social media marketing owe their success to effective lead generation via Facebook lead ads. Creating a fan base for your company on Facebook, and then feeding them with constant supply of unique articles and photos about your projects with lead generation ads well-placed on the Facebook page can increase the number of clicks to your web pages exponentially and hence get potential buyers for your products. This power that Facebook and other social media platforms have on modern marketing is unavoidable.
You should therefore make an effort of integrating your Facebook lead ads with the latest desktop delivery format for improved results.
Lastly, it is important to mention that these three cool Facebook lead generation practices can help you keep a sizable number of loyal customers by creating a business page where your followers can get latest news about your services without accessing their emails or visiting your local business offices.
Effective Facebook lead generation methods should then be integrated on the business pages to maximize on the number of people who will sign up, download or subscribe to your services.